314-TCAP Thayer & Chandler (General Set)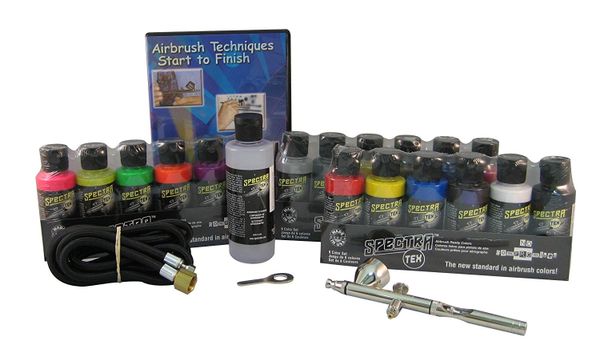 314-TCAP Thayer & Chandler (General Set)
Thayer & Chandler 314-TCAP Advanced System. This system includes the popular Omni 4000 airbrush, the long-standing choice of fine artists, commercial artists, graphic artists, and decorative painters.

The Omni 4000 is a dual action internal mix gravity feed airbrush. The Omni 4000 was designed for tight detail to broad spraying, one of the first to utilize a One Tip-One Needle combination. Designed with state-of-the-art engineering, the Omni 4000 airbrush is manufactured to the tightest possible tolerances.

System includes the Omni 4000, 6 foot braided air hose, three six Color paint sets including the Primary Set 2-once bottles (Intense White, Jet Black, Brilliant Yellow, Classic Red, Brilliant Blue, Lt Brown), the Neon Set 2-ounce bottles (Pink, Lemon, Green, Orange, Purple, Wild Berry), the Metallic Set 2-ounce bottles (White, Silver, Gold, Copper, Blue, Red), a 4-ounce airbrush cleaner, Airbrush Techniques Start to Finish DVD and Instruction Manual. Proudly made in the USA!