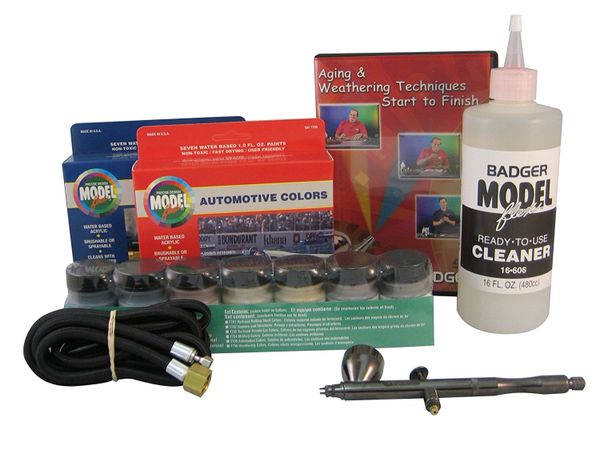 314-HP Hobby Pro Set
Badger Air-Brush Co. 314-HP Hobby Pro System contains a Model R1V Velocity airbrush designed for the proven elite hobbyist or artist. The Velocity is for use in extremely detailed and tight graphic applications. This incredibly innovative airbrush possesses the most precise paint tip and linear air flow (needle) angle specifications, and feature manufacturing processes and materials technology never before utilized by the airbrush industry.

The Velocity airbrush is superior to anything that precedes it in a dedicated custom graphics airbrush. It truly takes airbrushing to the next level. Any professional hobbyist or artist desiring the finest tools and to elevate their skill to its highest level needs to experience the beauty and perfection of the Velocity airbrush.

The Velocity R1V (gravity feed) features a 0.21 millimeter paint tip, a 6-Degree Linear Air Flow Angle. The Velocity will produce a hair line to 1-Inch spray pattern when spraying properly reduced acrylics, lacquers, and Urethanes. The Model R1V-Velocity is a gravity feed airbrush with an additional spray regulator and a 1/8-Inch air hose adaptor.

System also includes a 6 foot braided air hose, 3 paint sets each containing 7 1-Ounce bottles, Scenery and Structures Colors (Insignia Yellow, Antique White, Primer Gray, Concrete Gray, Sand, Signal Red, Light Green), Automotive Colors (Gloss Black, Gloss White, Gloss Red, Gloss Blue, Gloss Brown, Gloss Yellow, Gloss Green) and Weathering Colors (Grimy Black, Weathered Black, Rust, Mud, Earth, Rail Brown, Roof Brown), a 16 Ounce airbrush cleaner, Aging and Weathering Techniques Start to Finish DVD and Instruction Manual. Proudly made in the USA.