314-HBWC Hobby Basic Set /w Compressor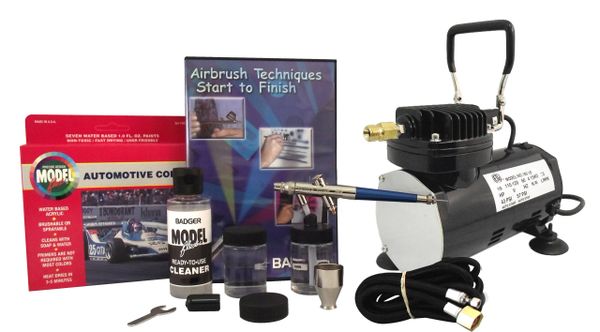 314-HBWC Hobby Basic Set /w Compressor
Badger Air-Brush Co. 314-HBWC Hobby Basic System is the top choice for the intermediate model painter or decorative stenciled. Also an excellent airbrush for painting posters, auto detailing and ceramics.

The single action Model 200NH airbrush will spray inks, dyes, watercolors, gouaches, properly reduced acrylics, fabric paints, modeling paints, automotive lacquers and enamels, most ceramic stains and glazes, Air-Tex, Air-Opaque and MODEL flex airbrush colors.

This system contains a Model 200-NH single action, siphon feed, internal mix airbrush, 180-10 Compressor, 6 foot braided air hose, 2 3/4-Ounce glass jars and 1 Fast Blast jar adapter cap, 1/4 ounce color cup, 5 1-Ounce-airbrush ready acrylic colors (Engine Black, Reefer White, Gray Primer, Signal Red, Rail Brown), a 2-Ounce airbrush cleaner, an Airbrush Techniques Start to Finish DVD and Instruction Manual. Proudly made in the USA.