314-HA Hobby Advanced Set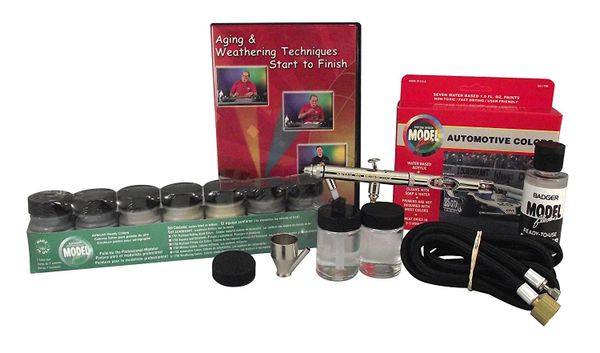 314-HA Hobby Advanced Set
Badger Air-Brush Co. 314-HA Hobby Advanced System is the top choice for the more advanced or professional model painter or decorative stenciled.

The Model 155-Anthem is a dual action, internal mix, siphon (bottom) feed airbrush. It is the most comfortable, reliable, proficient, cost effective, user friendly airbrush ever. The two angle needle tip precisely mates with the Anthem's cone shaped nozzle enabling a single needle/nozzle configuration to spray virtually any desired material, thus eliminating the need for fine, medium, or large needle/nozzle variations.

The Anthem's body design provides exacting balance and long term user comfort. The Anthem also provides flawless performance in the most rigorous of production airbrushing environments.

System contains a model 155 Anthem airbrush, 6 foot braided air hose, 2 3/4-Ounce glass jars and 1 Fast Blast jar adaptor cap, 1/4 ounce color cup, 2 Paint sets in 1-Ounce bottles, Automotive Colors (Gloss Black, Gloss White, Gloss Red, Gloss Blue, Gloss Brown, Gloss Yellow, Gloss Green) and Weathering Colors (Grimy Black, Weathered Black, Rust, Mud, Earth, Rail Brown, Roof Brown), a 2-Ounce airbrush cleaner, a Airbrush Techniques Start to Finish DVD, and Instruction Manual. Proudly made in the USA.