314-SSWC General Starter Set w/ Compressor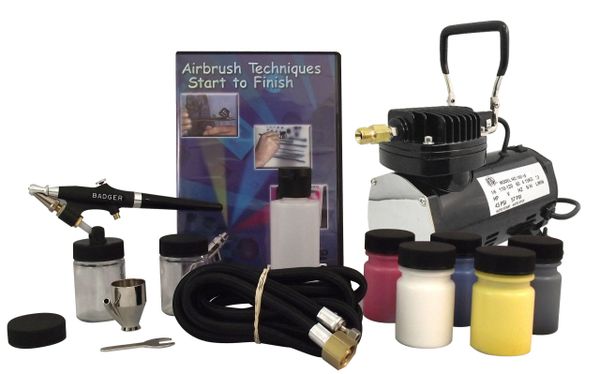 314-SSWC General Starter Set w/ Compressor
Badger Air-Brush Co. 314-SSWC Starter Airbrush System created for the novice venturing into airbrushing for the first time. An excellent choice for beginning students, hobbyists, ceramists, and automotive painters.

This system features a Model 350-M airbrush, an external mix airbrush. Air and paint mix outside the airbrush, creating a larger, coarser "dot" pattern and providing a heavier spray volume. The 350 is superb for base coating, stenciling, stippling, touch up projects, etc. This model sprays high viscosity materials such as ceramic glazes and stains, and hobby enamels with ease. It is also effectively used with properly reduced acrylics, inks, dyes, watercolors, acrylic, lacquers, enamels, Air-Opaque, Air-Tex, Spectra Tex, and MODEL flex airbrush colors.

System also includes the BTC-110 Compressor, 6 foot braided air hose, 2- 3/4-Ounce glass jars and 1 Fast Blast jar adaptor cap, 1/4 ounce color cup, 5 - 1-Ounce airbrush ready acrylic colors (yellow, red, blue, white, black) 2-Ounce airbrush cleaner, 1-Airbrush Techniques Start to Finish DVD, and Instruction Manual. Proudly made in the USA.