314-BSWC General Basic Set w/ Compresor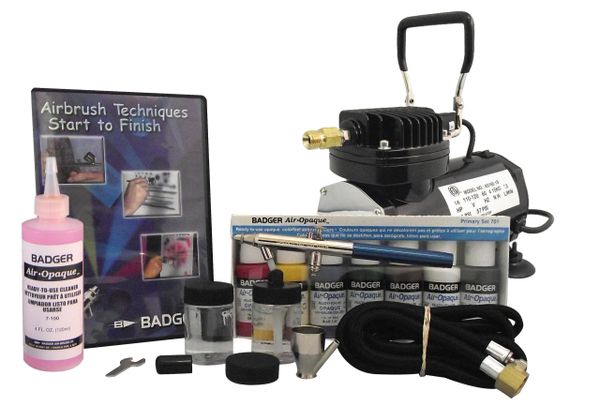 314-BSWC General Basic Set w/ Compresor
Badger Air-Brush Co. 314-BSWC Basic Airbrush System includes the Model 150-M airbrush, appreciated by everyone from artists to taxidermists, auto customizers to furniture refinishers.

The versatility of Badger's Model 150 allows for a broad range of applications, making it the "classic" airbrush in the Badger line. Dual action, internal mix, siphon feed. The 150 accepts a 3/4 Ounce color cup for small volume painting needs, or attachable jars can be used for bigger projects. The Model 150 airbrush sprays properly reduced acrylics, acrylic enamels and lacquers, gouaches, fabric colors, watercolors, inks, dyes, Badger airbrush-ready paints including Air-Opaque, Air-Tex, MODEL flex, Totally Tattoo and Spectra Tex colors.

System also includes a 180-12 Compressor, 6 foot braided air hose, 2 3/4-Ounce glass jars and 1 Fast Blast jar adaptor cap, 1/4 ounce color cup, 5 1-Ounce airbrush ready acrylic colors (yellow, red, blue, white, black), 1 2-Ounce airbrush cleaner and 1 Airbrush Techniques Start to Finish DVD, and Instruction Manual. Proudly made in the USA.