175-8 - Crescendo 175 Medium Head Six Shooter Pack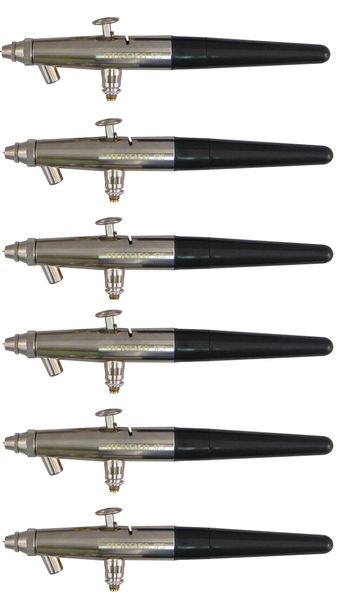 175-8 - Crescendo 175 Medium Head Six Shooter Pack
The Anthem Model 175, is the most comfortable, reliable, proficient, cost effective, user friendly airbrush ever. Dual action, internal mix, siphon (bottom) feed airbrush. Excellent choice for novice to advanced airbrush users.
The two angle needle tip precisely mates with the Anthem's cone shaped nozzle enabling a single needle/nozzle (.75 millimeter) configuration to spray virtually any desired material, thus eliminating the need for fine, medium, or large needle/nozzle variations. 
The Anthem's body design provides exacting balance and long term user comfort. The Anthem also provides flawless performance in the most rigorous of production airbrushing environments. The Anthem's single needle/nozzle is ideal for spraying all mediums, inks, dyes, watercolors, properly reduced acrylics, enamels, lacquers, glazes, latex, Air-Opaque, Air-Tex, SpectraTex, MODELflex, TotallyTattoo and Totally Tan colors.
Proudly made in the USA.
This is a six shooter pack that includes six Crescendo 175 airbrushes with medium head fittings. 175-8