314-CSWC Craft/Decor (Scrapbook/Stenciling Set) /w Compressor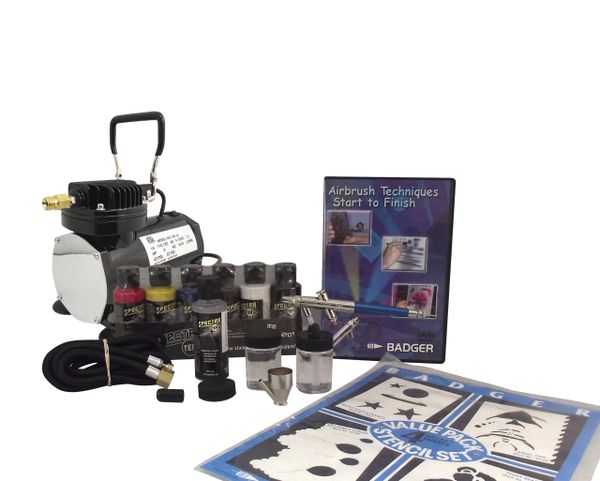 314-CSWC Craft/Decor (Scrapbook/Stenciling Set) /w Compressor
Badger Air-Brush Co. 314-CSWC Craft/Decorative Scrapbook Stenciling System. Created to provide all the tools necessary for a scrapbook enthusiast and stenciled to produce unique and professional customized artwork. Pages in a scrapbook become easy to create, utilizing stencil techniques with this airbrush kit.

System features Badger's 200NH single action, internal mix, siphon feed with medium head airbrush, offering the ease of single action operation while providing the fine spray pattern of internal mix paint atomization for professional results.

Depressing the trigger releases a preset amount of color which can be regulated by turning a needle adjustment screw at the back of the airbrush handle. Once the desired paint flow is set the airbrush will maintain the preset spray pattern until the user chooses to change it. Simplicity of use makes this the ideal choice for scrapbooking and stenciling.

The Model 200NH will spray airbrush ready paints and properly reduced acrylics including, Air-Tex, Spectra Tex, Air-Opaque and MODEL flex airbrush colors.

System also includes, 180-10 Compressor, 6 foot braided air hose, 2 3/4-Ounce glass jars and a Fast Blast jar adaptor cap, 1/4 ounce color cup, 1 set of 2-Ounce Spectra-Tex Transparent Primary Colors (Intense White, Jet Black, Brilliant Yellow, Classic Red, Brilliant Blue, Lt Brown), 2-Ounce bottle of airbrush cleaner, Value Pack Stencil Set (4 Sheets each: 45-60 Balloons and Clouds 8-1/2-Inch by 11-Inch, 45-61 Wacky Stars and Planet 8-1/2-Inch by 11-Inch, 45-62 Angel Fish 8-1/2-Inch by 11-Inch, 45-65 Teddy Bear, 8-1/2-Inch by 11-Inch) , a Airbrush Techniques Start to Finish DVD and Instruction Manual. Proudly made in the USA.
Reviews