314-BCS Beauty (Complete Salon Set)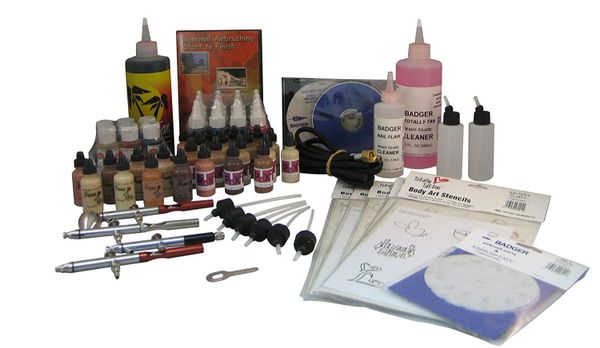 314-BCS Beauty (Complete Salon Set)
Badger Air-Brush Co. 314-BCS Badger's Complete Salon System includes all the necessary equipment to provide the professional spa or salon with the most up to date, popular trends in cosmetics, temporary tattoo, nail art, and more.

System includes 4 specialized airbrushes; the Model 3000TT designed for airbrush tanning, the Vega 2000 for temporary tattoos and body art, the Omni 4000 for flawless cosmetic applications, & the Vega Nailaire the ideal airbrush for today's trendy nail art.

Also included is 4 Male Quick disconnects, 8 foot braided air hose (1/4 inch compressor fitting one end with integrated Propel regulator fitting, quick disconnect other end), a 16 ounce Dark DHA Tanning Solution, 2 2-ounce jars with adaptors, 2 1/4 ounce glass jars and 1 Fast Blast jar adapter cap, 1/4 ounce color cup one Tanning Application Instruction DVD. 6 20 millimeter Fast Blast (all plastic) jar adaptor cap (fits Badger 4 ounce bottles), 8 Air Elegance Airbrush Cosmetics (Sun Kissed, Misty Mauve, Coco Loco, Fair Lady, Ebony, Porc Bisque, Innocence, Terra Cotta), 12 Color Nail Flair Set, (Licorice, Whipped Cream, Cherry, Fiery Glow, Cotton Candy, Dark Raspberry, Heavenly Blue, Cinnamon, Sunshine, Misty Gray, Deep Forest Green,Lightening), Totally Tattoo Body Art Paints Starter Primary Set (Really Red, Daisy Yellow, Brilliant Blue), a 16 ounce airbrush cleaner, a 16 ounce Totally Tattoo cleaner, a 4 ounce Nail Flair cleaner, Laser cut Miniature Stencils, Fingernail Airbrush Technique Start to Finish DVD, 1 of each (Flirty Theme Pack adhesive backed tattoo stencils; Small Of Back Theme Pack adhesive backed tattoo stencils; Belly Buttons Theme Pack adhesive backed tattoo stencils; Asian Serenity Theme Pack adhesive backed tattoo stencils) and Instruction Manual. Proudly made in the USA!