314-BB Bakery (Basic Bakery Set)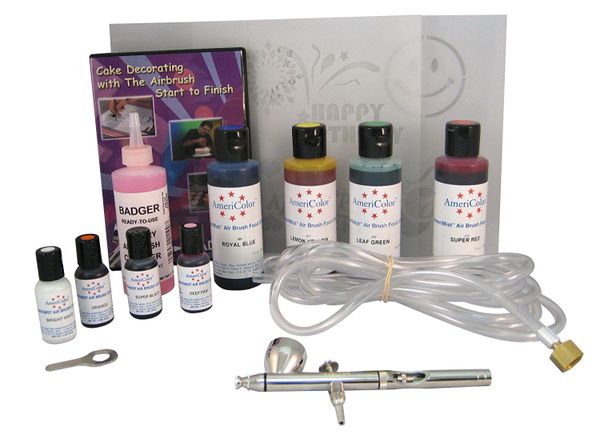 314-BB Bakery (Basic Bakery Set)
Badger Air-Brush Co. 314-BB Badger's Basic Bakery System, designed for the small to medium bakery shop and catering to shops that do numerous small to large projects requiring the creative effects of an airbrush.

System includes: the gravity feed Bake Air 4000 airbrush with a 1/3 ounce color cup and a continuous flow valve, which creates the ease of a single action airbrush while eliminating tip dry. The Bake Air 4000 airbrush is the choice for the professionally decorated cakes; you cannot beat its smooth blending and soft shading of colors. The Basic Bakery System will easily get the job done.

System includes a 10 foot clear air hose (compressor fitting on one end and no airbrush fitting on other end), four .7 ounce bottles of airbrush ready food color (Super Black, Bright White, Deep Pink, Orange), four 4-ounce bottles airbrush ready food color (Royal Blue, Lemon Yellow, Super Red, Leaf Green), a 4-ounce airbrush cleaner, Miscellaneous Fun Stencils (Smiley Face, Hearts, Kaleidoscope, Balloons), Salutations Stencils (Happy Birthday, Happy Anniversary, Congratulations), Christmas / Halloween Stencils (Santa, Ho,Ho,Ho, Jack-O-Lantern), Sports Stencils (Baseball, Football, Basketball, All-Star), Cake Decorating with The Airbrush Start to Finish DVD and Instruction Manual. Proudly made in the USA!