360CS Universal Blister Pack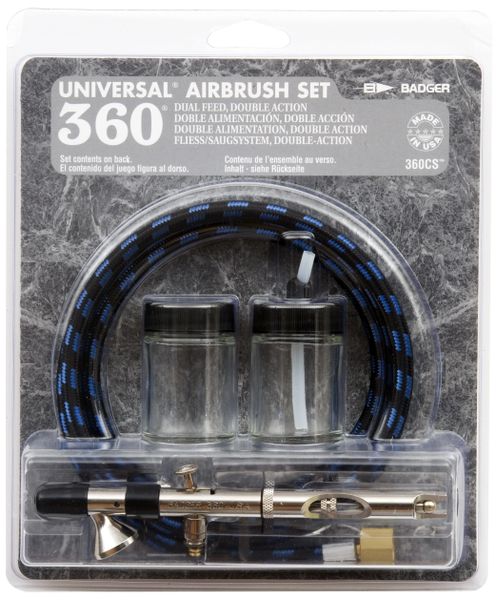 360CS Universal Blister Pack
The Universal Model 360 is the only airbrush capable of performing in a gravity feed as well as a bottom feed mode. Dual action, internal mix airbrush. Never before has one airbrush provided so much versatility. It is 2 airbrushes in one. 
The Model 360 airbrush features a 360 degree front end rotation to allow for either gravity or bottom feed usage. Its single needle/nozzle (.75mm) sprays from pencil lines to 3 inch (76mm) spray patterns.
Single size nozzle/needle design will spray all materials, acrylics to watercolors, inks to lacquers, Air-Opaque, Air-Tex, SpectraTex, MODELflex and Totally Tattoo airbrush paints. 
One year warranty on manufacturing defects with a lifetime warranty on any factory labor repairs. Proudly made in the USA.
The Blister Pack contains: A 360 Universal airbrush with protective cap, two jars and a jar adapter, hose and instruction manual.

360CS