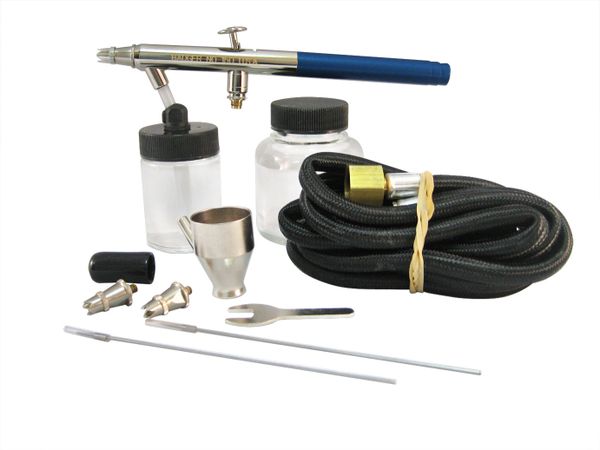 150-7 Professional Set
The versatility of Badger's Model 150 allows for a broad range of applications, making it the "classic" airbrush in the Badger line. This is a dual action, internal mix, siphon feed airbrush. A choice of three needle/nozzle sizes (fine, medium, large) can be changed to accommodate various paints/mediums.
This airbrush includes the Medium needle/nozzle size. Additional sizes can be purchased separately.
Appreciated by everyone from artists to taxidermists and auto customizers to furniture refinishers. The 150 accepts a 3/4 ounce color cup for small volume painting needs, or attachable jars can be used for bigger projects. The Model 150 airbrush sprays properly reduced acrylics, acrylic enamels and lacquers, gouaches, fabric colors, watercolors, inks, dyes, Badger airbrush-ready paints including Air-Opaque, Air-Tex, MODELflex, TotallyTattoo and SpectraTex colors. 
The Airbrush Only Set contains
 the Model 150 airbrush with the option of a fine, medium or large needle/nozzle, attachable jar, additional jar with cover, 1/4 ounce (7 milliliter) color cup, protective cap, wrench for head, and instruction manual in a plastic storage case.
The Professional Sets contains
the 150 airbrush with Medium needle/nozzle (.50 millimeter) and attachable jar, protective cap, Fine needle/nozzle (.22 millimeter) for the 150-5 and 150-7, Heavy needle/nozzle (.75 millimeter),1/4 ounce(7 milliliter) color cup, additional jar with cover, braided air hose with varying air source fitting, wrench for head,  Sturdy carrying case for 150-4PK and 150-5 and instruction manual.
150-7