100 Side Feed with Elegant Storage Case 100-4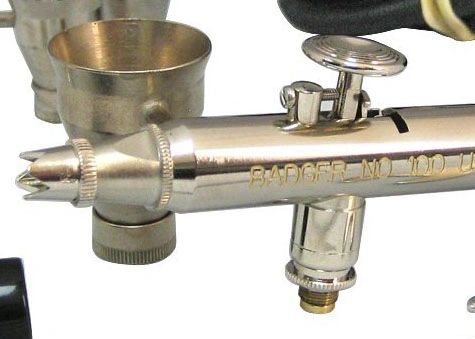 100 Side Feed with Elegant Storage Case 100-4
Badger's Model 100 gravity feed professional airbrush series offers precision performance for a soft spray pattern and tight line detail. Model100 -4 (SS) is a dual action, internal mix, side feed airbrush.  
It features correctly proportioned body weight providing perfect balance and comfort for the most exacting professional applications.  The Model 100-4(SS) side feed has a rotational color cup for horizontal or vertical work.  It has a fine (.22 millimeter) needle/nozzle capable of spraying a pencil thin line up to a 2 inch spray pattern.  This set also includes a medium (.50 millimeter) needle/nozzle capable of spraying a 1/32 inch (0.8 millimeter) spray pattern up to a 2 1/2 inch (63 millimeter) spray pattern. 
Fine artists, photo retouchers, and graphic illustrators will find this model to be an excellent choice. Sprays inks, dyes, watercolors, Badger airbrush paints, properly reduced acrylics. 
The 100-4(SS) Complete Set contains the Model 100 side-feed airbrush with Fine nozzle / needle (.22 millimeter) and protective cap, one 1/8 ounce (3.5 milliliter) and two 1/16 ounce (2 milliliters) self-standing color cups with screw off bottoms, Medium nozzle / needle (.50 millimeter), braided air hose w / varying air source fitting, wrench for head, and instruction manual packaged in an elegant wood grain storage case.

One year warranty on manufacturing defects with a lifetime warranty on any factory labor repairs. Proudly made in the USA.